Once a month, the kids get together with friends in a play group and this month was our turn to host. The pavers out back were covered in moss and needed to be removed quickly and easily. So it was off to Bunnings to have a look at what was available.
The name Karcher has always been synonymous with high pressure cleaners so I must admit I was biased from the start. They had both Bosch and Karcher ranges there but the Karchers seemed to be better value for money and had a wider variety of nozzles and attachments. So I settled on the Winner 11 which was also their cheapest at $108.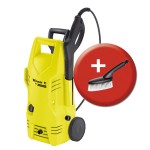 The unit comes with the following bits:
Spray lance
Trigger
Brush
3m hose
Adapter for standard tap fittings
Integrated mesh filter
After getting the unit home (which I must admit I did in a hurry because I was quite excited to play with it), I unpacked it, hooked it up to the rainwater tank and power and started on the pavers. It took a few attempts before getting the distance right between the pavers and the sprayer (they call it a lance, go figure). The moss came off quite easily and I have to say I was quite impressed at how it performed.
What impressed me more was when I turned the lance on our dirt covered wall. It stripped away the dirt like a hot knife through butter leaving clean brick underneath. It did not destroy the brickwork either.
Next was the pebblecrete test. After a whole week of waiting (I can't believe I was looking forward to the weekend so I could clean!), I tried it on the dirty pebblecrete at the front of the house. It effectively stripped away the baked on dirt once again to revealed clean ground underneath I never knew existed.
So in the end i'm very impressed with the unit. It's pretty efficient with water and has the Smart Approved WaterMark whatever that means. It's light, pretty portable, and does a fantastic job lifting dirt from otherwise impossible jobs.