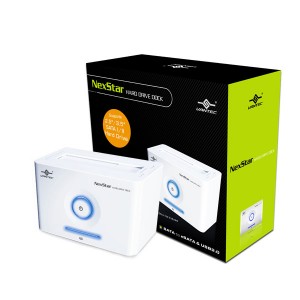 If you purchased your Vantec NST-D100SU drive dock some time ago, there's a good chance it won't support 3TB drives. You'll only see around 800MB of space when you plug your 3TB drive in, where 2TB drives work just fine.
To fix the problem you'll need a firmware update to support the larger capacity drives. For some reason this information isn't available on the Vantec website. I had to contact technical support directly.
They took about half a month to reply so to save you the hassle here are the links. The firmware update can be obtained direct from Vantec here, but if that link expires for some reason, get it here.
There'll be a PDF in the file. Follow the instructions TO THE LETTER! I can't stress this enough. Don't go all gung-ho thinking you can just figure it out. You could end up screwing your drive dock permanently.
After applying the update, your drive dock will support 3TB drives. And yes I tested it and it works.